Exploring Garden Court on Detroit's Gold Coast
The Liz in Detroit team is here to help you explore the various living options making up the unique Detroit real estate landscape. Today, I'd like to introduce you to a superb option on Detroit's Gold Coast.
Located just steps from the famed Detroit Riverwalk you'll find a historic condo complex at the corner of E. Jefferson and Jos Campau – Garden Court Condominium.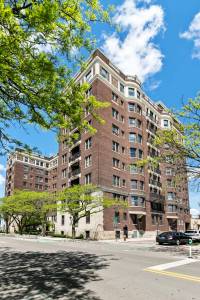 As a Detroit Real Estate Agent, I have sold numerous units at Garden Court, and my appreciation and love for the building grows each time I step inside.
Residents of Garden Court enjoy exceptional amenities, which include rooftop terrace access, community laundry, community gym space, and unit-assigned parking next to the building. The location is another wonderful perk, as you'll be steps away from Detroit's famed RiverWalk.
The RiverWalk has received worldwide recognition, providing Detroiter's and visitors alike with beautiful walking and biking opportunities along the Detroit River. Well-maintained parks and gardens can be found on the waterfront path, plus the impressive Aretha Franklin Amphitheatre. This venue is only a 10-minute walk from Garden Court, and hosts various jazz and pop performances each year.
Grab a bite to eat at excellent area eateries such as: The Rattlesnake Club, Bucharest Grill, Breadless, PizzaPapalis, They Say, and Andrews on the Corner, or enjoy a refreshing drink at the Atwater Brewery & Tap House.
Interested in making a move to Detroit – more specifically to Garden Court? You're in luck! I currently have a 3 bedroom, 3 bath condominium for sale on the third floor. Apartment C3 is a spacious, 2,602 sq ft single level residence. The monthly carrying charges include building and common area maintenance, grounds maintenance, water, sewer, trash, and snow removal.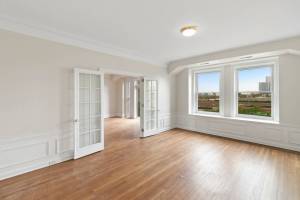 Beautiful original lead windows are featured in the main foyer of apartment C3, which helps natural light spill in.
The original hardwood floors have been refinished throughout, and in the kitchen you'll find new appliances and a separate butler's pantry that could become a second kitchen with plenty of storage. There is a separate laundry room off the butler's pantry that accommodates a side-by-side washer dryer, plus additional storage.
This prime piece of Detroit real estate gives you ample space to create the home of your dreams, all while providing amazing city views and helping you establish a new luxurious life in downtown Detroit.
Interested in viewing 2900 E Jefferson Unit 3C in person? Contact me at or call me at . If you're not in the area and would like to take a virtual tour, all you have to do is !